Hello Pioneers!
This update brings two big new features to the world of Sailaway, the first is a brand new boat and the second is integration of Steam Workshop to allow players to create and share their boat customisation with others.
New Boat – Nordic Folkboat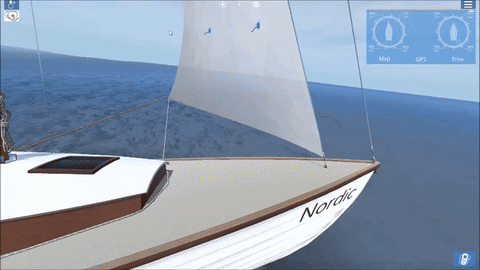 The goal with this new boat was to create something which was easier to learn to sail in, with only the one line to worry about the Nordic Folkboat had all the character the team wanted from such a boat.
In the near future this boat will replace the cruiser that exists in the tutorials so that learning to sail in Sailaway becomes even more straightforward.
As always with new boats feedback is appreciated, if you come across any issues with this please let us know in the forums.
Steam Workshop – Boat Customisation
It is now possible to save your boat customisation options out to Steam Workshop so that you can share them with other skippers and we have also added the option for you to upload your own textures on various parts of the boat for additional creative control!
Boat customisation is in the same place as before: Main Menu > Boat > Edit boat customisation. In the new Steam Workshop menu on the left you can select a new boat livery from any published on the Workshop or save your current configuration to a new item on the Workshop to share with others.
All current liveries previously made by the Sailaway Team are already in place on the workshop so they are still available to use.
Integrating Steam Workshop into an online game such as Sailaway was no easy task and while we have been testing this internally we would appreciate any feedback from yourselves on any issues you come across so we can improve this feature as we move forward, this should be treated as the initial integration of the this feature.
Here's one we made earlier!

Here's a quick video to show you how to add your own images. It only shows the sails but ALL the textures on all available boats are editable! Enjoy! We can't wait to see your creations!
Additional Changes
Tips should now only display for lines you actually have on the boat you are sailing.
Fixed an issue where reflections would flash on the boat hull.
Made some adjustments on how wind animations are handled on the world map.
Made some additional adjustments to a few hotkeys that had issues.
Custom images can now be uploaded for Player Created Races.
As always If you have a bug you'd like to report, please follow the guide for 'how to report a bug'and post a new thread in the Bug Reporting Forum.
Happy Sailing,
The Sailaway Team