Hello Pioneers!
Here are this week's patch notes. The main focus of this patch, as the title suggests, is voyage management. Do let us know what you think of the new features! You can see the full list of changes in the patch notes below.
Also, a quick thank you to everyone who has taken part in our weekend races so far! There will be more announced tomorrow.
Thanks to Kiwi Mace for the Koh Samui Long Race footage below!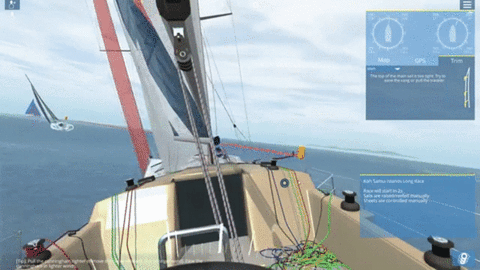 Patch V.0.9007
New Features
New Voyage Management
You can now manually toggle waypoints as complete on a voyage by clicking the little dot that appears next to them.
You can lock your laid out voyage on the map so that it can't be accidentally dragged when scrolling the map
Voyages can now be saved to the new voyages menu that allows you store and manage your trips.
Here's a look a the new voyage buttons on the map:

Other Additions
A new tutorial called Telltales – This tutorial explains what the "little flapping things"on your sail are for.
Players can now view their sails while trimming by using the Q/E keys to cycle through the lines and then adjusting them with the W/S keys
Improvements
Improved visibility when adjusting sail trim
Fixes
Tactical view is back.
Improved Japanese text size in places it was super small
Fixed issue with v-sync disabling when Sailaway lost focus
If you have a bug you'd like to report, please follow the guide for 'how to report a bug' and post a new thread in the Bug Reporting Forum.
Thanks for the continued support!
Happy Sailing,
The Sailaway Team